Case study "Thermokon Direct": a portal with data provided by Alterra::WebShop, Typo3, and Alterra::PIM

Thermokon is one of the (rightfully) highly praised "hidden champions" are said to be responsible for the success of the German economy. Thermokon is a leading player in the very fast-growing sector of building sensors. The product portfolio includes sensor solutions for the detection of temperature, relative humidity, air quality and brightness. Thermokon sensors are used in the industry (e.g., for humidity detection in data centers), in offices, and very often also in the living area.
Interweaving of Typo3 website and Alterra::WebShop on one web portal
Part of Thermokon's success can certainly be attributed to the fact that they attached great importance to the quality of the published product information early on. As a provider of technical solutions, Thermokon ensures that each individual product is described comprehensively. In addition, due to the sheer volume of data, a smart search and filter function is absolutely necessary. For the presentation of the company and its products on the web, the decision was made to use a portal solution offered by Sepia, in which an Alterra::WebCatalog::WebShop together with Typo3 are routed via a central domain. For customers, this "hybrid website" thus looks like a portal that is homogeneous in form and function.
Thermokon Shop with Alterra::PIM as backend
Product information is stored centrally at Thermokon in Alterra::PIM and Alterra::DAM. From this platform, different channels can be dealt with. A particularly important one is said company website with the integrated customer portal. Here, a customer can call up personalized product data with price information fed from the ERP system in real time and combine products into projects. An order can be directly executed here on a project or product basis. The delivery process is supported by tracking functions.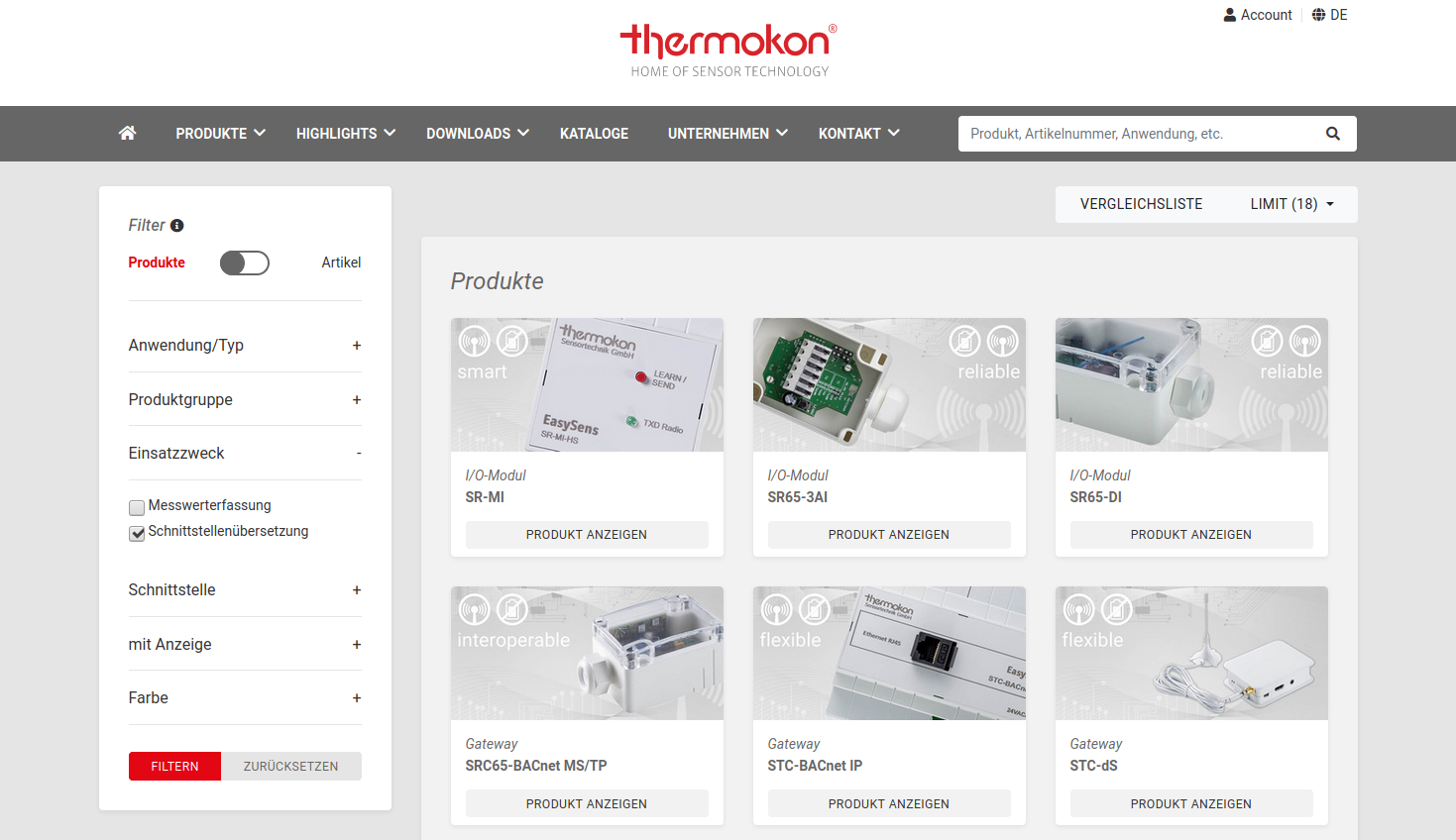 If a user has successfully registered on the website, these functions, among others, are available to them:
Portfolio with all products and accessories distributed by Thermokon
Project management for flexible planning
Innovative search with filter features via product properties or free text
Download of article-specific data sheets and media (BIM data, tender texts, images, software, declarations of conformity)
Product comparison
Order function
Online parcel tracking
Ordering of single articles and/or projects
Products with list and purchase prices
Set up and manage different delivery addresses and much more… click here to go to the shop
Product filter: faceted search with Elasticsearch
Thermokon products are extremely varied and have a high depth of information regarding the technical data. Therefore, a dynamic faceted search via product features is very important for the customer. This eliminates the need for time-consuming consultations, especially in spare parts sales. The customer finds the required component in the shortest possible time thanks to the intuitively self-limiting search filter. The user can first search via a "Model Filter"; once they have found the right model, they see the variants of this product one level below. Very expert users can also directly use the finer "Article Variant Filter" here, which filters the entire article pool of Thermokon.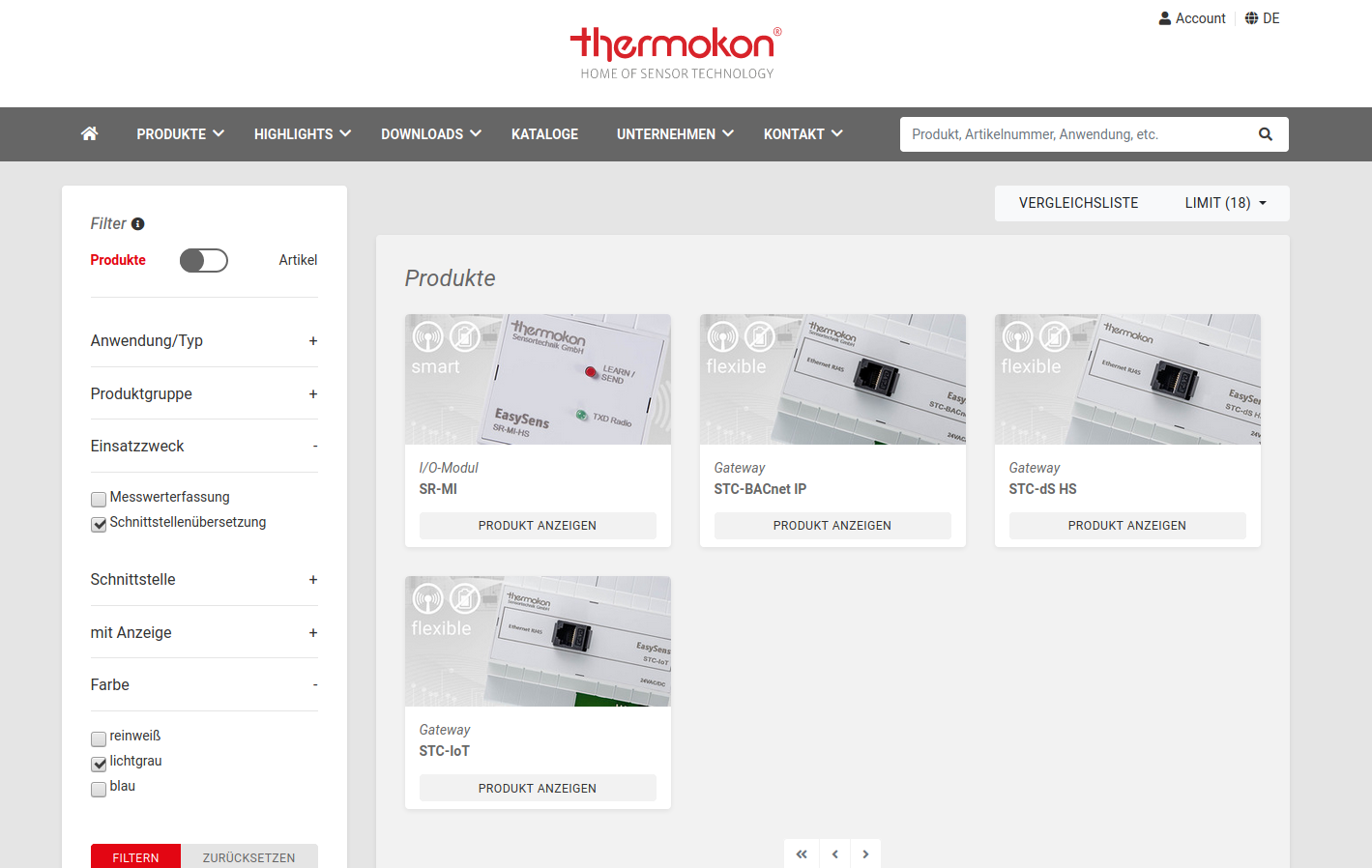 Professional implementation: ERP data synchronized in real time
Thermokon's customer portal does not only get its information from Alterra::PIM but also delivers ERP data in real time. The Alterra::Shop bundles the information from PIM and ERP via a special controller. All customer-related data can be used directly. Thanks to the seamless interlinking of all systems involved, the customer and also the sales and logistics departments are fully informed about the status of all activities at all times.
The customer logs into the shop with his profile and orders at the conditions stored in the ERP. The integrated project management is particularly popular, allowing customers to assign their orders to individual projects. This makes, for example, the search for spare parts for products used in projects a breeze.
BIM: view and retrieve CAD data directly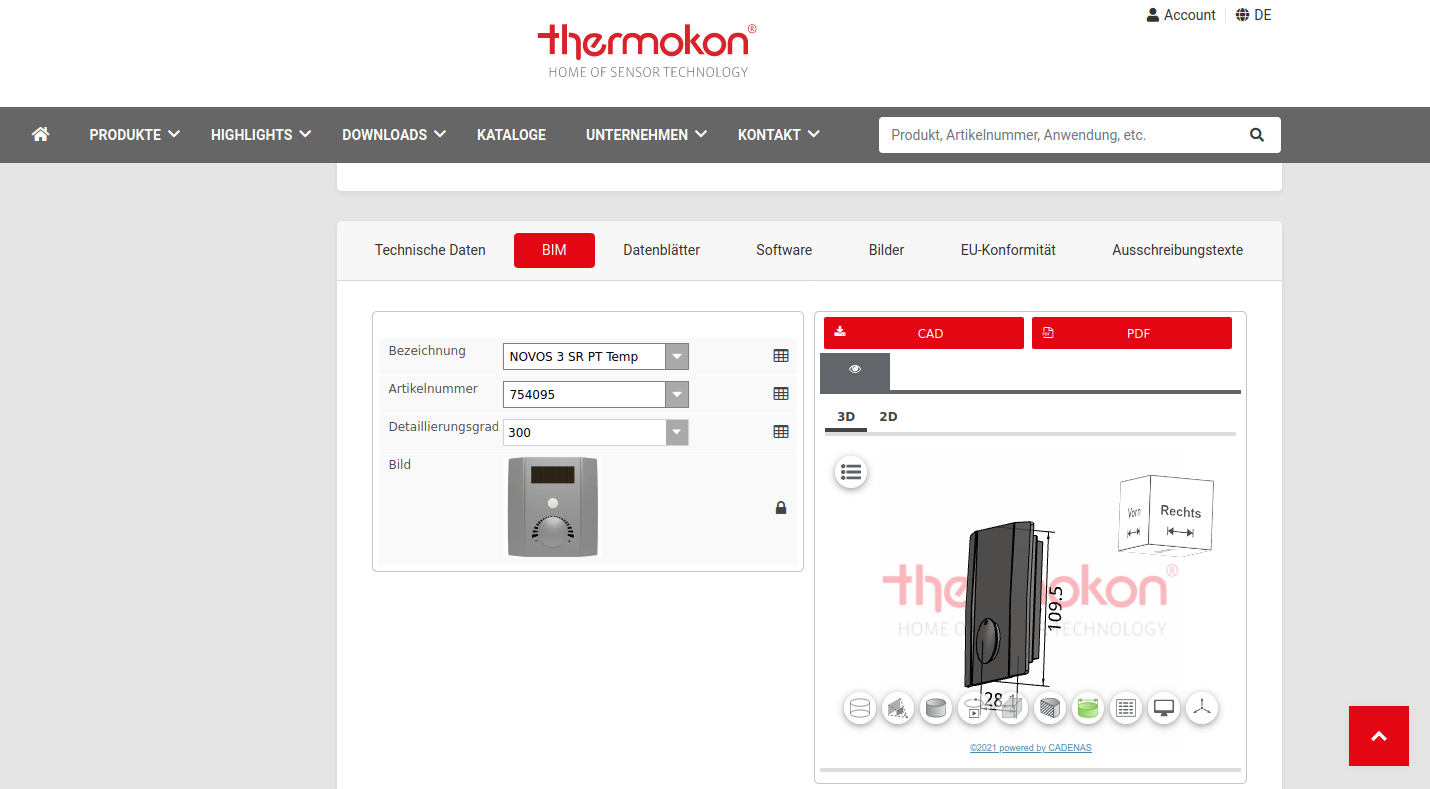 Building Information Modeling (BIM ) concepts – i.e. the networked planning, construction and management of buildings and other structures with the aid of software – are becoming increasingly popular in building planning. Therefore, building planners are pleased about the BIM data that can be called up directly for the most Thermokon products. The Building Information Models (BIMs) used for this, three-dimensional building models, must be fed with the relevant information by all project participants. If a planner uses Thermokon products, he can search for them in the WebShop and use them directly in his planning process.
Conclusion
With the new trend-setting customer portal, Thermokon makes it clear that the company is an absolute leader in all areas. Customers and partners of Thermokon can rely on being informed and supplied quickly and comprehensively at all times. This is made possible by the professionally orchestrated use of the Alterra software suite and the networking of multiple systems with the goal of being able to serve the customer comprehensively, quickly and with maximum transparency.
Goto: Alterra::WebShop